C4SS has teamed up with the Distro of the Libertarian Left. The Distro produces and distribute zines and booklets on anarchism, market anarchist theory, counter-economics, and other movements for liberation. For every copy of Clarence Lee Swartz's "The Practicability of Mutualism" that you purchase through the Distro, C4SS will receive a percentage. Support C4SS with Clarence Lee Swartz's "The Practicability of Mutualism".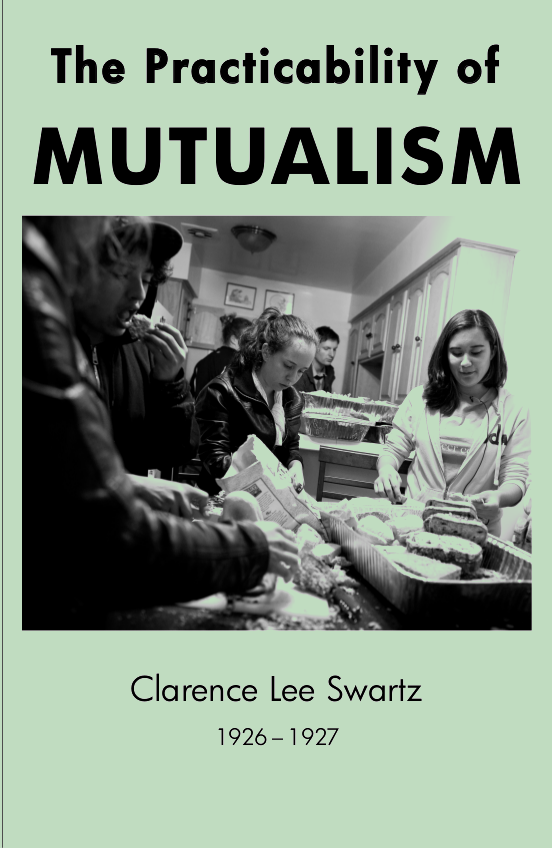 $1.50 for the first copy. $0.75 for every additional copy.
"The Practicability of Mutualism," a classic statement of Mutualist theory and practice by Clarence Lee Swartz, first appeared as a two-part serialized essay in one of Edward H. Fulton's many anarchist newspapers, The Mutualist, published from Clinton, Iowa, in December 1926 and January 1927. This is, to our best knowledge, the first time that the entire essay has ever appeared in print since its original publication.
"MUTUALISM IS A SOCIAL SYSTEM BASED ON RECIPROCAL and non-invasive relations among free individuals. The Mutualist standards are:
INDIVIDUAL: Equal freedom for each — without invasion of others.
ECONOMIC: Untrammeled reciprocity, implying freedom of exchange and contract — without monopoly or privilege.
SOCIAL: Complete freedom of voluntary association — without coercive organization. . . .
"THE LIBERTARIAN IDEAL IS THE ONLY CONCEPT THAT PAVES the way for the operation of Mutualism. Perfect Mutualism could not exist under any form of authority. It would be thwarted and emasculated at every turn. Just as today every social and economic evil that serves to enslave humanity is the result of some form of governmental interference with freedom and with natural processes, so would the same or similar forces tend to nullify and counteract, to all extent, the advantages to be derived from the application of the principles of Mutualism. It is a plant that requires the fertile soil of liberty in which to make its unimpeded growth. . . ."
Clarence L. Swartz (1868–1936) was a California mutualist activist, writer and publisher. He was a close friend of the individualist Benjamin Tucker, and contributed frequently Tucker's paper Liberty, as well as publishing his own anarchist journal, I (1899–1900). After Tucker was forced to retire from publishing by a disastrous fire in his New York book shop, Swartz became a leading figure in preserving, reviving, and carrying forward the tradition of individualist Anarchism and mutualism in America. During the 1920s, he edited an anti-prohibition magazine, The Libertarian, contributed frequently to Edward H. Fulton's The Mutualist, prepared and published a collection of Tucker's short articles, entitled Individual Liberty, and published his best-known work, What Is Mutualism? (1927), a new synthesis of individualist and mutualist thought on anarchist economics and strategy.