C4SS has teamed up with the Distro of the Libertarian Left. The Distro produces and distribute zines and booklets on anarchism, market anarchist theory, counter-economics, and other movements for liberation. For every copy of ALL Distro's "No Copyright" that you purchase through the Distro, C4SS will receive a percentage. Support C4SS with ALL Distro's "No Copyright".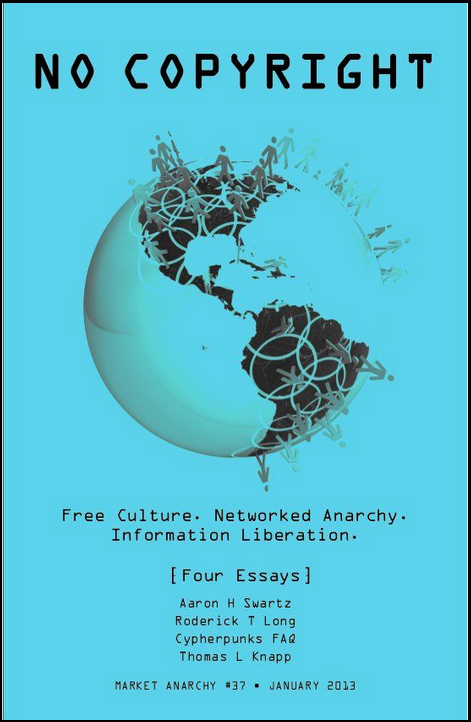 $1.00 for the first copy. $0.75 for every additional copy.
These four articles include provocative looks at the copyrighting of digital culture and the rising global struggle against it. "Guerrilla Open Access Manifesto" is the work of Aaron H. Swartz (1986–2013), a young brilliant hacker and information-justice activist driven to suicide in January 2013 by a long campaign of abuse by an out-of-control federal prosecutor. Additional essays include "Thoughtcrime" (2003) by market anarchist philosopher Roderick T. Long, the "Crypto Anarchist Manifesto" (1994) from the Cypherpunks FAQ, and the memorial "Aaron Swartz and Intellectual Property's Bitter-Enders" (2013) by Thomas L. Knapp.
"Information is power. But like all power, there are those who want to keep it for themselves. The world's entire scientific and cultural heritage, published over centuries in books and journals, is increasingly being digitized and locked up by a handful of private corporations. . . . Scanning entire libraries but only allowing the folks at Google to read them? Providing scientific articles to those at elite universities in the First World, but not to children in the Global South? It's outrageous and unacceptable. 'I agree,' many say, 'but what can we do? The companies hold the copyrights, and it's perfectly legal – there's nothing we can do to stop them.'
"But there is something we can do: we can fight back. . . . It's called 'stealing' or 'piracy,' as if sharing a wealth of knowledge were the moral equivalent of plundering a ship and murdering its crew. But sharing isn't immoral – it's a moral imperative. . . . There is no justice in following unjust laws.
"We need to take information, wherever it is stored, make our copies and share them with the world. We need to take the stuff that's out of copyright and add it to the archive. We need to buy secret databases and put them on the Web. We need to download scientific journals and upload them to file sharing networks. We need to fight for Guerrilla Open Access. . . ."