Breathe in…. Breathe out… 
Wow what a year. After everything that 2020 brought, I think we were all expecting 2021 to feel like a bit of a break. Boy, were we wrong. Much like the rest of the world, we've had a tumultuous time here at the Center for a Stateless Society. 
While it's easy to focus on the struggles, we've had some immense successes this year as well. It feels like the world is ready to give our particular flavor of anarchism a chance. People are continuing to leave party politics in droves, worker power is reaching a high-water mark, and the continued compression of everyday people between COVID and the slow collapse of global capitalism is leaving us with few alternatives to radical solidarity.
So let me start by thanking all of you for your radical solidarity in supporting C4SS throughout this crucial and difficult time. 
When we were kicked off of PayPal just a week before the NYC Anarchist Bookfair, it was easy to feel like all was lost. We're still not exactly sure what triggered the move, but it seems likely the financial powers-that-be are realizing how much of a threat our work could pose. We know, for one thing, that other anarchist organizations were kicked off around the same time. 
While we're still working out some of the kinks, your quick responses to our call for support allowed us to keep kicking. And not only that: but, for the first time in a few years, all of our projects are fully funded for the immediate future. As supporters and friends of the Center, I'm sure you know how much we're able to do with very little. I'm extremely excited to see what's possible with the kind of support we're receiving now. 
We've also had some growth on the Coordinator team, with Enrico Sanna joining the crew as Translations Coordinator this year. It's been a while since we've had a dedicated translations coordinator and it's allowed us to do some really amazing things. In particular, Enrico has been working with our translators to expand our Stateless Embassies program and to re-invigorate our translations program. One goal that unites us at C4SS is the desire to see human beings freed from the bonds of national borders. So, Enrico's work and the work of our many translators is central to our mission. 
This year, we've added new languages to our list, including Tagalog and Catalan. You can see the full list of Stateless Embassies here. Enrico has also worked with some of our star translators to produce translations of larger studies, such as Kevin Carson's Libertarian Municipalism, or Municipalismo Libertario. We're excited to continue the growth of the translations program, as well as the "Around the World" interview series on Mutual Exchange Radio. 
This is one area in which the recent wave of support has been especially impactful. Ethereum and other funding options are allowing us to continue paying translators despite losing access to PayPal. 
Another big announcement is that we'll be co-hosting a radical, outdoor Mardi Gras festival in February 2022! 
Coup de Gras is an annual radical Mardi Gras festival launched in 2020 by Krewe de Main, an anarchist Carnival krewe based around the former Coup de Main land project in Southern Louisiana. This year, we've joined on as co-hosts to plan a five-day camping festival filled with panels, speakers, workshops, skillshares, vendors, cookouts, and parties, all culminating in the Coup de Gras Ball on Mardi Gras Day. We're looking forward to seeing many of you there!
If you want a sneak-peek, join us on Thursday, 1/6 for a gaming livestream with some appearances from C4SS scholars
A major goal we had going into this year was to focus on increased outreach. Despite the challenges of doing outreach during a pandemic, we found a few ways to get our name and ideas out there. We had many speakers attend the virtual version of Coup de Gras this past February. And we've been encouraging writers to tackle basic questions around market anarchism and LWMA politics in the hopes of bringing new people in. 
This fall, though, we were able to finally table in person again. I personally visited the NYC Annual Anarchist Bookfair with Center fellows Nathan Goodman and Kelly Wright. We were blown away by the reception we received there. Maybe it's just that everyone was excited to finally be at an in-person event again, but almost no one flinched at a table with the word "markets" all over it, and we got rid of just about everything!
Then, a week later, we sent Tony Dreher and Christopher Hudson Jr. down to Nashville for the annual Students For Liberty conference, now called Freer Future Fest. We got a few more confused faces there, but it was great to reach more students and to steer them towards fuller and fairer expressions of individualist anarchism. Chris and Tony both talked to quite a few curious college students. 
Huge thanks to those of you who made both of these trips possible by funding book shipments so we could be there, despite all our funding being tied up in PayPal at the time.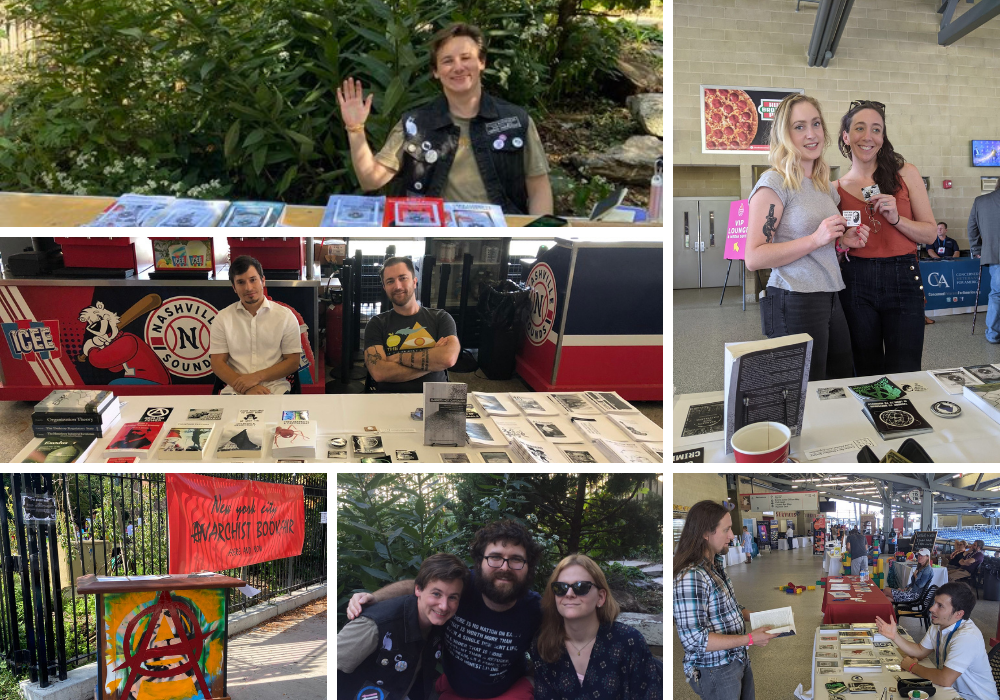 Some of this success in tabling is attributable to the absolutely beautiful books we've been able to put out this year. With cover art designed by renowned anarchist artist N.O. Bonzo, we have two new books out this year. Liberatory Technology is our "homebrew edition" of Pyotr Kropotkin's Fields, Factories and Workshops, together with Murray Bookchin's essay "Towards a Liberatory Technology," a Comprehensive Introduction, and the C4SS Studies "The Anarchist Thought of Colin Ward" & "The Homebrew Industrial Revolution" by Kevin Carson.
Defiant Insistence: Anarchist, Anthropologist, Fellow Worker is our way of remembering and honoring the late David Graeber. It features essays from C4SS in conversation with Graeber, or which build on his path-breaking work. Our fellow worker will be dearly missed, and we hope this publication stands as a fitting memorial. 
Next year, look out for even more from C4SS's ever-growing publishing project, including a collection called TOTAL ABOLITION.


Finally, look out for some changes to the C4SS Masthead soon! Some of these are changes we just haven't announced yet, such as Eric Fleischmann coming on as assistant editing coordinator, Can Standke taking over more and more as assistant audio coordinator, and a few other younger folks getting more involved with our work. But we're also in the process of re-working how our masthead is organized. If you're a former fellow, chair, coordinator, or regular writer, and you haven't heard from us yet, please do reach out to discuss how we should list you on the new masthead in 2022. 
We greatly appreciate everything you do and are looking forward to building a better world together. Please tell all your friends about us and keep in mind that the best way to support C4SS moving forward is by funding us on Patreon! And if you're looking for other ways to give, or more information about crypto donations, just give us a shout at editor@c4ss.org. 
Onward to greater heights!

Alex McHugh
Coordinating Director, Center for a Stateless Society