C4SS has teamed up with the Distro of the Libertarian Left. The Distro produces and distribute zines and booklets on anarchism, market anarchist theory, counter-economics, and other movements for liberation. For every copy of ALL Distro's "Spontaneous Order — Five Theses" that you purchase through the Distro, C4SS will receive a percentage. Support C4SS with ALL Distro's "Spontaneous Order — Five Theses".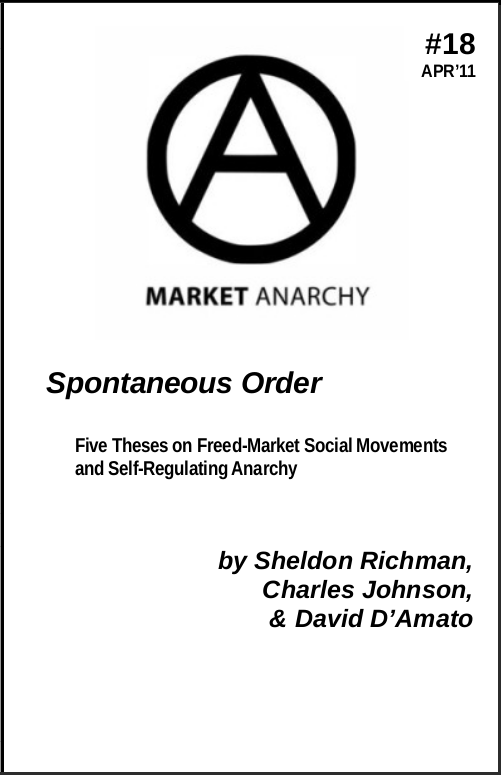 $1.00 for the first copy. $0.75 for every additional copy.
Spontaneous Order — Five Theses on Freed-Market Social Movements and Self-Regulating Anarchy
In a freed market, who will stop markets from running riot and doing crazy things? And who will stop the rich and powerful from running roughshod over everyone else? We will.
In a freed market, if someone in the market exploits workers or chisels customers, if she produces things that are degrading or dangerous or uses methods that are environmentally destructive, it's vital to remember that you do not have to just "let the market take its course" — because the market is not something outside of us; we are market forces…. When liberals or Progressives wonder who will check the power of the capitalists and the bureaucratic corporations, their answer is — a politically-appointed, even less accountable bureaucracy. The libertarian answer is — the power of the people, organized with our fellow workers into fighting unions, strikes and slow-downs, organized boycotts, and… alternative institutions…. [I]f you want regulations that check destructive corporate power, that put a stop to abuse or exploitation or the trashing of the environment, don't lobby — organize!
In "Five Theses on Freed-Market Social Movements and Self-Regulating Anarchy," Sheldon Richman, Charles Johnson, and David D'Amato look at the social and economic possibilities for social order to emerge without the need to impose social control — for spontaneous order and people-powered social movements against capitalism, racism, and ecocide within an anarchic freed market. Richman's "Regulation Red Herring" discusses the demand for "regulation" and the power of unplanned spontaneous order; Johnson's "We Are Market Forces" considers the meaning of "market forces" and the possibilities for DIY social change in a self-regulating market anarchy; and in "I Oppose Civil Rights Acts because I Support Civil Rights Movements," "The Free Market's Regulatory Model," and "The Clean Water Act vs. Clean Water," Johnson and D'Amato apply the analysis to freed-market social activism against racism and environmental destruction.