Já vínhamos passando da metade de janeiro de 2015 e eu ainda não havia apresentado o relatório referente a dezembro. Então, para remediar essa situação, decidi ir um pouco além e falar um pouco do trabalho que nós desenvolvemos para atingir o público em português durante todo o ano de 2014.
Até eu assumir como coordenador de mídias, o C4SS já trazia textos para português, mas não de modo sistemático e não havia uma tentativa de chegar aos veículos de mídia. O C4SS pediu para que eu fizesse especificamente isso quando comecei no meu posto.
A partir de março, chamei Valdenor Júnior para o nosso time. Eu e Valdenor fomos a cara do C4SS durante 2014, escrevendo a maior parte dos nossos textos originais. Com o tempo, eu também compilei uma grande lista de editores para quem passei a mandar nossos editoriais e alguns de nossos artigos feature (artigos geralmente mais longos que tratam de temas que não necessariamente comentam fatos do cotidiano). A resposta foi extremamente positiva e nós conseguimos ser publicados em diversos veículos da internet e em alguns jornais impressos.
Segue um gráfico que detalha a evolução do nosso trabalho em português, contando quantos artigos originais em português nós produzimos em cada mês, o total de artigos publicados (entre originais e traduzidos do inglês) e o total de republicações em outros veículos: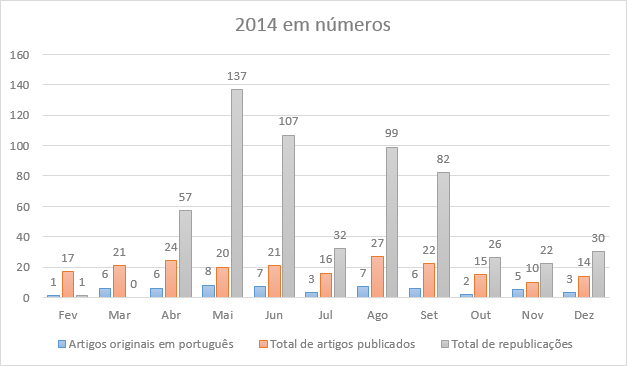 Os números totais do ano são os seguintes:
Total de artigos originais em português: 54
Total de artigos publicados (originais e traduzidos): 207
Total de republicações: 593
Além disso, começamos uma campanha agressiva de divulgação no Facebook. Todos os artigos que publicamos são divulgados em vários grupos de discussão, o que nos ajudou a atingir uma popularidade moderada em nossa página, que foi criada em 17/02. Os números da nossa página do Facebook são os seguintes:
Total de curtidas na página até 31/12/2014: 3619
Média de curtidas por mês: 329
Total de curtidas na página até 15/01/2015: 3855
Também estabelecemos uma presença no Twitter para o C4SS (@c4sspt) a partir de 31 de março. Nossos números, mais modestos que os do Facebook, são os seguintes:
Total de seguidores até 15/01/2015: 103
Média de seguidores por mês: 10,84
Total de tweets até 15/01/2015: 324
Média de tweets por mês: 34,10
Neste mês, comecei também alimentar de conteúdo no blog do Tumblr do C4SS em português, interagindo com os usuários, postando nossos textos diários e republicando nossos textos antigos, para atingir novos leitores. Até o momento, já há 28 republicações em nosso blog, com 7 seguidores e mais 21 posts na fila (republicando alguns de nossas centenas de textos de 2014 na plataforma).
Para mim, em particular, tem sido um prazer trabalhar com o C4SS em prol do ideal da anarquia e de um livre mercado radical e revolucionário
2015 será melhor e para isso contamos com sua ajuda! O C4SS só é possível através das doações daqueles que acreditam nas nossas ideias. Então, se você sente que nosso trabalho é importante, não deixe de nos apoiar e faça uma doação hoje mesmo.
Erick Vasconcelos
Coordenador de mídias
Centro por uma Sociedade Sem Estado
* * *
Portuguese Media Coordinator Update: December 2014
We're almost past halfway through January and I still haven't presented the December Portuguese Media Report. So, to remedy that situation, I decided to go further and talk a little about the work we developed in 2014 to reach the Portuguese-speaking public.
Before I started as media coordinator, C4SS already brought articles into Portuguese, but it wasn't a very systematic endeavor and there wasn't an attempt to reach media outlets. When I started collaborating with the Center, I was specifically asked to do that and try to sprinkle our content everywhere I could.
From March on, I asked Valdenor Júnior to join our team. Valdenor and I were the face of C4SS during 2014, writing most of our content in Portuguese. Over time, I was able to compile a large list of editors to whom I would send our op-eds and selected long form features. We got an extremely positive feedback and we were able to get published in several internet outlets as well as a handful of printed newspapers.
Below I show you a graph I prepared detailing the evolution of our work in Portuguese, counting how many original Portuguese articles we published each month, the total number of articles we published (both translated from English and original pieces), and total pickups from media outlets: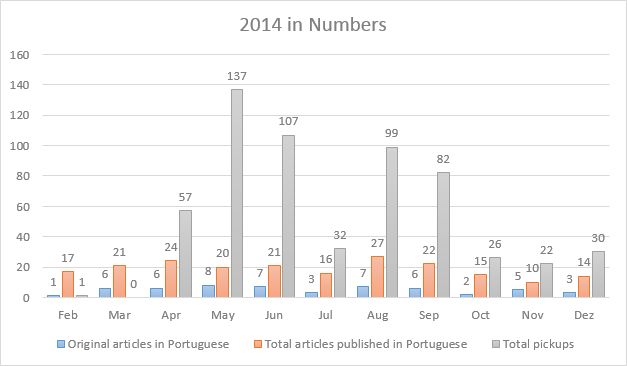 The total numbers from 2014 are the following:
Total original Portuguese articles published: 54
Total published articles (translated and original): 207
Total pickups: 593
I started a rather agressive campaign to spread out our articles. Every article we publish is shared in several discussion groups, something that helped our Facebook page — created on 02/17 — achieve a respectable popularity. Our Facebook numbers are the following:
Total page "likes" until 12/31/2014: 3619
Average number of "likes" per month: 329
Total page "likes" until 01/15/2015: 3855
On 03/31, we opened a Twitter account for the Portuguese C4SS (@c4sspt). The respectable, albeit more modest numbers, are as follows:
Total followers until 01/15/2015: 103
Average number of followers per month: 10,84
Total tweets until 15/01/2015:
Average number of tweets per month: 34,10
I have also started this month to feed content to the Portuguese C4SS Tumblr blog, interacting with other users, posting our daily articles and republishing our older pieces to reach new readers. Up to this moment, the blog has 28 posts, 7 followers and 21 posts in queue — republishing a few of the hundreds of articles that we ran in 2014 on the newer platform.
To me, in particular, it's been a pleasure to work with C4SS in promoting the ideas of anarchy and a radical and revolutionary free market.
2015 should be even better, and for that we hope to get your help and donation! C4SS is made possible through the donations from those who believe in our ideas. So, if you feel our work is important, do not hesitate to help us out and send $5 our way today!
Erick Vasconcelos
Media Coordinator
Center for a Stateless Society