C4SS has teamed up with the Distro of the Libertarian Left. The Distro produces and distribute zines and booklets on anarchism, market anarchist theory, counter-economics, and other movements for liberation. For every copy of William Baillie's "Problems of Anarchism" that you purchase through the Distro, C4SS will receive a percentage. Support C4SS with William Baillie's "Problems of Anarchism".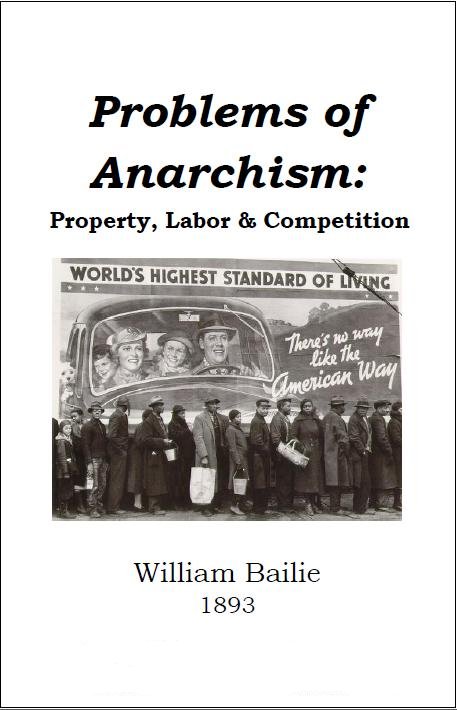 $2.00 for the first copy. $1.00 for every additional copy.
A lost classic recovered from the pages of Liberty, this essay — never before collected in pamphlet form since its original serialization — is one of the most ambitious attempts to define the Individualist theory of property, and to provide both an Anarchistic defense of private property and market competition, and an attack on the regime of structural violence and legal privilege that sustains capitalism and subjugates the working class.
Modern industry and the accompanying economic conditions have arisen under the régime of status, — that is, under arbitrary conditions in which equal liberty had no place and law-made privileges held unbounded sway, — it is only to be expected that an equally arbitrary and unjust system of property should prevail. On one side a dependent industrial class of wage-workers and on the other a privileged class of wealth-monopolizers each becoming more and more distinct from the other as capitalism advances, has resulted in a grouping and consolidation of wealth which grows apace by attracting all property, no matter by whom produced, into the hands of the privileged, and hence property becomes a social power, an economic force destructive of rights, a fertile source of injustice, a means of enslaving the dispossessed. Under this system equal liberty cannot obtain. . . .
Can the millionaire capitalist, the labor-robbing idler who lives on interest, the rich thugs of today and their army of parasites, be taken as the outcome of private property? Surely not. They are the direct result of restrictions and privileges, of legal and governmental origin, — causes that render impossible the growth and diffusion of individual property among the mass of wealth-producers. Inequalities in possession exist not so much because of inequalities in the power of individuals to acquire wealth under free conditions, but because political, social, and economic arrangements have always tended to create artificial inequality, to foster and increase whatever natural inequality did exist . . . .