I'm pleased to announce the publication of the second item from the Molinari Institute's new POD publishing program. This one is my own Rituals of Freedom: Libertarian Themes in Early Confucianism, a book-length expansion of a much shorter article I wrote in 2003.
Here's the summary:
When scholars look for anticipations of libertarian ideas in early Chinese thought, attention usually focuses not on the Confucians, but on the Taoists. But in their account of spontaneously evolving social norms, their understanding of the price system, their penchant for public-choice analysis, their enthusiasm for entrepreneurship, their preference for noncoercive interpersonal relations, their call for a laissez-faire economic policy, and their rejection of Taoist primitivism, the Confucians show themselves to be the true precursors of modern libertarianism.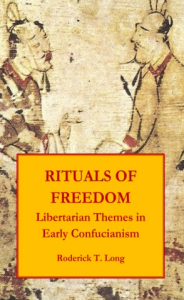 The book will also be available in Kindle format in due course; keep an eye out for the announcement.
Also, look for more Molinari Institute books over the next few months, including:
a collection of my academic articles, to be titled Austro-Athenian Essays
a collection of my blog posts and op-eds, to be titled Other People Are Not Your Property
a transcription of my 2006 philosophy seminar, to be titled Austro-Athenian Foundations of Libertarian Ethics
But, happily, it's not all me. There will also be a collection of Free Nation Foundation essays (hey, only some of those are by me!), as well as a series of Libertarian Classics, including new translations of works by Gustave de Molinari and the Censeur group. And of course the second issue of the Molinari Review will be coming out in the fall.
Incidentally, the "Look Inside" feature on the Amazon page (US, UK) for the Molinari Review's first issue has now been activated; check it out!
Want to support these projects financially? Check out either my Patreon page or the Molinari Institute General Fund (see icon below).