C4SS has finished another month and we have a lot to talk about.
On May first, the new look for our site will turn one. If you don't remember our original look, enjoy. As with everything at the Center, the new look is the result of amazing work from friends, volunteers and, especially, donors.
If you are a regular donor, then we would like to thank you for your continued enthusiasm and support. If you are interested in supporting our mission "to explain and defend the idea of vibrant social cooperation without aggression, oppression, or centralized authority" with a monthly $5 donation, then I will give you an idea of you can expect.
For the month of April, C4SS published:
24 Commentaries (6 more than March),
8 original Features,
4 Weekly Abolitionists,
9 Life, Love and Liberty,
4 Weekly Libertarian Leftist Reviews,
5 Missing Commas (2 more than March),
3 Wars and Rumors of Wars,
3 original Book Reviews (2 more than March) and
18 C4SS Media uploads to the C4SS youtube channel (10 more than March).
The dedication of our Media Coordinators continues to draw international interest. Thanks to their efforts C4SS published:
14 Italian translations (12 more than March),
4 Spanish translations and
25 Portuguese translations (8 more than March).
Brazil continues to remain C4SS's second most popular country; drawing almost more visitors than Canada and the United Kingdom combined.
It is because of this interest that C4SS is excited to have Valdenor Júnior join our team, writing commentaries and features focusing on and bringing attention to the politics and potential of Brazil to our readers.
And thanks to the effort of our Spanish Media Coordinator, Carlos Clemente, América Economía, a big Argentinean business magazine that is read all over Latin America, has requested that a number of our writers submit two paragraph bylines and author pictures to accompany the articles they anticipate publishing.
Beyond the numbers
I would like to draw your attention to our developing blog community. Trevor Hultner and Nathan Goodman have both taken a more direct role in their blogs. They have both created, for them, their own social media presences where they can better develop and interact with their respective audiences as well as highlight stories that relate to their focus. If you are interested in following Goodman's The Weekly Abolitionist on Facebook or Hultner's Missing Comma on Facebook and Twitter, please do!
Jonathan Carp is our newest regular blogger. His Wars and Rumors of Wars is dedicated to exploring "issues of war and peace, ranging from foreign and military affairs through the culture of militarism and the effects of war on soldiers and civilians to the details of anti-war activism."
We also have in the works two more blogs; one focusing on an critique of work and job culture, and another focusing on the open-source/open-hardware ethos and liberatory technology.
The site has finally been moved, thanks to William Gillis, to hosting services, recommended by Smari McCarthy, in Iceland. Our decision to move was promoted by the unwillingness of our previous host to have our back when presented with an insane DMCA takedown and predicated on our new home understanding our mission, situation and impenitence.
The Entrepreneurial Anti-Capitalism project has successfully participated in funding two important projects. We, along with friends, were able to raise $1,000 to support recover and relief efforts in the Philippines through the amazing work of local anarchists, Onsite Infoshop. And we contributed to a fundraiser that will send two amazing wobblies to Taiwan and Hong Kong. While there, they will help in translating the IWW Organizer's Handbook, participate in direct action labor organizer training and share some "good and welfare" with our fellow workers across the pacific.
Our first project, Dark Wallet, has released a new video and website. They plan to "go dark" this May Day.
The C4SS Internship
We are proud to announce that Cory Massimino has been selected to be C4SS's first paid intern – more like paid OJT. Massimino is helping us craft a six month program that will develop the anticipated skills, time management and discipline needed to become an effective anarchist writer. The first three months you can expect Massimino to complete a series of book reviews, followed by three months of weekly op-eds. The first day of the internship is May Day, but he is already in the process of settling in with the C4SS crew.
You can also expect a him and Joseph S. Diedrich to publish a Mutual Exchange exploring and challenging the arguments found in Diedrich's recent C4SS Feature, Private Property, the Least Bad Option.
Books and Book Reviews
We still have, in the works, reviews from,
And are happy to announce that we have added,
The first in a series of C4SS books are finally coming together. We are currently in talks with a talented graphic artist to design their covers. The collection is shaping up to look something like,
The Anatomy of Escape (A Defense of the Commons)
The Economics of States, Capitalism Defined. (A Defense of the Freed Market contra Capitalism)
The Psychopathology of Authority (An Attack on Hierarchy)
The Decentralized Ecosystem (A Defense of Environment contra the State)
Once these are complete, we hope to begin the massive task of collecting all the published articles of each C4SS writer into their own, respective books – or maybe two or three for Kevin Carson. The first of these will focus on the work of Darian Worden.
C4SS Stuff
Our Zazzle store, Support C4SS, has been doing well. We have been humbled by our supporters and their fan-art. We have recently been granted associate status which offers us more opportunities to earn incremental income through referrals. And our C4SS Lazer Cat of Doom shirt has recently been spotted on facebook: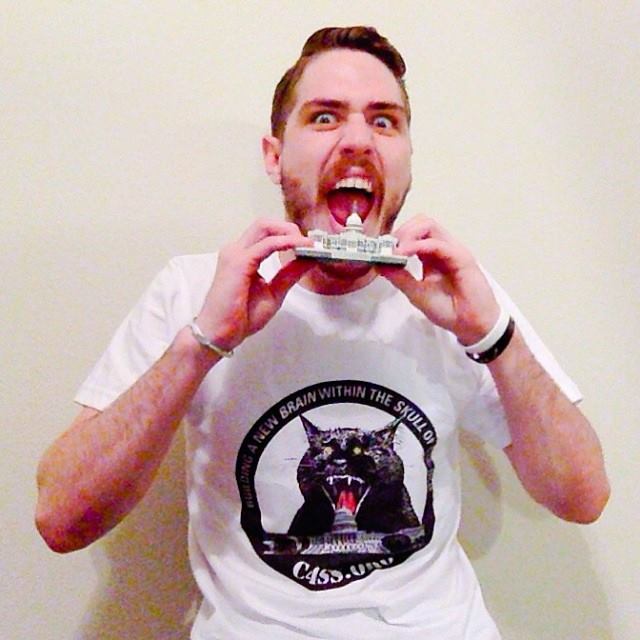 We haven't forgotten
We still have our David Graeber Symposium on the horizon, along with our Carson-Ward-Bookchin edition of Kropotkin's "Fields, Factories and Workshops Tomorrow".
Please Support Today!
Needless to say, all of this work is only sustainable through your support. If you think the various political and economic debates around the world are enhanced by the addition of left libertarian market anarchist, freed market anti-capitalist or laissez faire socialist solutions, challenges, provocations or participation, please donate $5, today. Keep C4SS going and growing.
ALL the best!