We're excited to announce that Kevin Carson's latest book, The State: Theory and Praxis is now available for purchase on Amazon!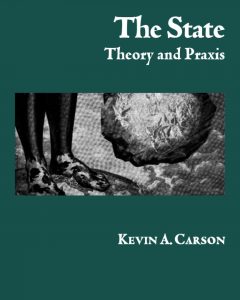 Adding to Carson's large body of work, this book covers many important topics for anti-capitalists of all stripes. In this new manuscript, Carson:
… examines the class nature of the state, navigates between the contending errors of reformism and accelerationism, and considers how best to engage with a dying system and manage its decline while simultaneously carrying out our primary task: creating a successor system within its interstices.
Get it today on Amazon for $10, and be sure to check out the rest of Carson's work, including Exodus, The Desktop Regulatory State, and Organization Theory.