Help our outfits−the Molinari Institute & the Alliance of the Libertarian Left Distro−get to upcoming Fall events, and carry on & expand our work of left-libertarian scholarship, publishing and outreach, beginning with a major presence at this month's Libertopia 2013 Festival in San Diego, California (Aug. 30-Sep 2). Help us reach Libertopia!
The Molinari Institute is a small left-libertarian market anarchist think tank centered in Auburn, Alabama (though the people in it are more widely dispersed); more info at http://praxeology.net/molinari.htm
ALL Distro is an ongoing radical publishing project run by Molinari Institute member Charles W. Johnson. The Distro provides quality editions of anarchist classics and provocative perspectives on today's radicalism, through ongoing series of handmade chapbooks, attractive and affordable printed booklets, and publishing and distributing books and magazines on left-libertarianism, individualist anarchism, free-market anticapitalism, and the anarchist movement and literary tradition. The Distro tables at political convergences, bookfairs, community markets and anarchist events. We also help local activists and ALL groups get packets of affordable and attractive materials for tabling, literature drops, and outreach. http://distro.libertarianleft.org/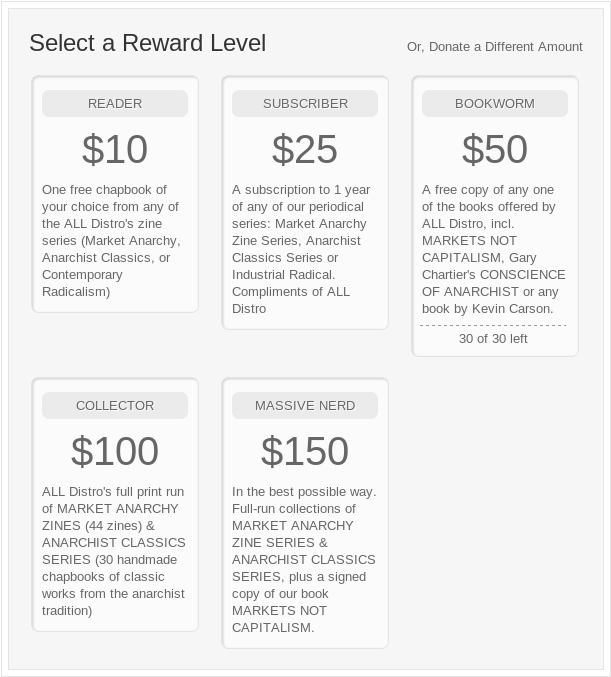 We have a lot of traveling and a number of exciting events coming up this fall, including a literature table and sending several speakers (including Roderick Long, Charles Johnson, and Gary Chartier) to spread ideas, start conversations, and provide a left-libertarian, free-market anti-capitalist presence theLibertopia 2013 Festival, Aug. 30-Sep. 2, an annual libertarian festival in San Diego that attracts libertarian activists from around the country and the world.http://libertopia.org/2013
Later this Fall, we'll also be distributing our literature and talking about individualist anarchism at the New Orleans Anarchist Bookfair and SFL Regional Conferences, a Fall semester speaking engagement at University of Oklahoma in Norman, OK, and a research and literature-gathering journey to the Labadie Collection in Ann Arbor, Michigan. For now, we are trying to cover the costs for Libertopia, and to replenish our travel budget, so that we can keep up with scholarship, speaking and traveling for an exciting Fall season. Here are the costs we're trying to cover:
* To pay transportation and lodging costs to get the Charles Johnson and the ALL Distro from Auburn, Alabama to the festival in San Diego, California (approx. costs $800)
* To rent an exhibition booth at the conference for our literature and for person-to-person outreach (cost: $400).
* To cover transportation & lodging for Molinari Institute speakers who will be presenting workshops or panels at Libertopia (approx. costs $1,000).
* To replenish the Institute's travel budget and provide seed money for travel costs on upcoming bookfairs, speaking appearances, research, etc. (approx costs $600).
More About the Molinari Institute & ALL Distro. We work to present a humane, consensual alternative to the politics of power and domination. In particular, we feel that a) libertarians need to take more seriously the ends valued by the radical left, including worker empowerment, sustainable growth, anti-corporatism, and an end to subordination, exclusion, and deprivation; and b) leftists need to take more seriously the means valued by libertarians, including private property, genuinely freed markets, voluntary cooperation, and anti-statist politics. We publish books (download free copies of several of them at http://praxeology.net/molinari-pubs.htm) and a magazine (download a free copy at http://praxeology.net/industrial-radical.htm), as well as op-eds through our media center (Center for a Stateless Society, at http://c4ss.org).