This week (May 15 – May 21) is the 4th Annual National Week of Action Against Incarcerating Youth, brought to you by Save the Kids (@STKgroup).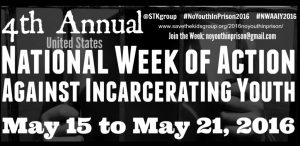 The national event celebrates a different theme each day of the week concerning youth incarceration issues. Today's theme is dedicated to ending curfews and truancy laws targeting youth. Tomorrow, participants are encouraged to promote alternatives to punitive justice, such as transformative and restorative modes of justice.
You can follow the goings on of the event on social media – #NoYouthInPrison2016 #NWAAIY2016. For more information, contact Anthony Nocella at (315) 657-2911 or by email — noyouthinprison@gmail.com
Save the Kids is a fully-volunteer national grassroots organization dedicated to advancing alternatives to and ending the incarceration of all youth and the school-to-prison pipeline.