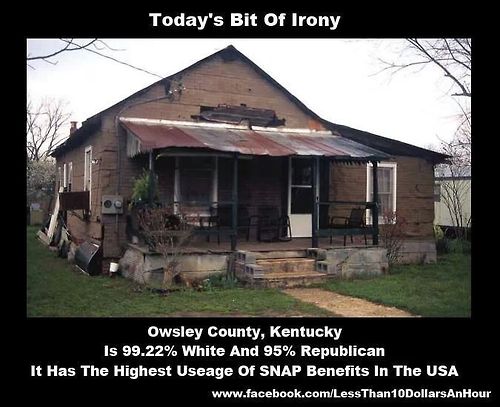 This photo came from "Being Liberal" on Facebook. My friend posted it with some comments about how problematic it is for liberals to denigrate the rural poor who are then scooped up by the republican party. But I am going to be waaaay more harsh.
I am so tired of liberal/democratic/progressive classism.
What is your evidence that the democratic party is so great for poor people? You know who are in prison right now? Poor people. You know who put a whole lot of them there? Democrats like Bill Clinton, "the incarceration president." When one of the political parties suggests dismantling the prison industrial complex and the military industrial complex, you let me know.
All this voting "against your economic interest" is a load of crap.
Poor people vote in far fewer numbers than rich people. And it so happens that Kentucky, the state being bashed here, has some of the lowest voter turnout in the nation. Sometimes people don't vote because they have been permanently disenfranchised due to their incarceration. (Kentucky has the 6th highest rate of disenfranchisement in the country.) Sometimes they don't vote because they cannot get to the poll. Sometimes they don't vote because they don't have ID. Sometimes they don't vote because they know it won't make a damn bit of difference in their everyday lives.
Anyone who wants to point out that the poorest states are republican should be slapped in the face with a list of the states that have the largest income inequality. My home, the resolutely democratic DC, is at the top of the inequality list. It is followed by New York, Connecticut, and Massachusetts. And the inequality is only getting worse. Where's that voting against your economic interest nonsense now? Or are you proud that the rich people in your state/city earn so much that average income figures hide the hideous poverty of the people who clean the houses and mow the lawns of the elite?
If the only thing that you are considering when you vote is your own economic interest then you are a complete asshole. When I make decisions in my life, I make them based on my values and conscience. I don't make them based on how much money will be in my bank account. (If you need proof, look no farther than my bank balance.) For a whole lot of you, voting your "economic interest" really means protecting your privilege.
In my experience, the people who post pictures like this have almost never been to the "fly over" states or bothered to speak to the people who live there. Their ideas of the rural, white poor come from media coverage – which is apparently oh so accurate when it comes to this one group of society. Or maybe they are just watching bad television that uses "hicks" as the villains because it is a socially acceptable meme.
If you haven't seen or experienced something for yourself, you should really hold your judgement. Reading a study about a community does not make you knowledgeable. It is not o.k. to dismiss people as ignorant because they don't have a degree or because they go to church. It is not o.k. if we are talking about poor, indigenous people in Bolivia. It is not o.k if we are talking about poor, white people in Kentucky.
The truth is that liberal, "educated" people need the low-class, ignorant hick meme. So long as they exist to denigrate, nobody has to acknowledge that racism, classism, and sexism are systemic and will require a complete upheaval of the systems that give so many liberals the privileges they currently enjoy. As was pointed out so well in the comments of this post, when a lot of white liberals say "racist," what they usually mean is low-class.
Our problems are not going to be resolved through party politics. They sure as hell aren't going to be resolved by shitting all over people you have never met. In fact, I would think a prerequisite to democracy would be actually speaking to the other people involved.
Perhaps, if people stopped being such ignorant snobs, they would find out that there is a whole lot of knowledge, mutual aid, and radical thinking that they are totally missing out on. Maybe the people who want to save themselves from mountaintop removal use Christian langauge in West Virginia. Maybe some of the biggest cooperatives serve the needs of (oh my gosh) republicans in the south. Does that make those efforts worthless?
Maybe we all have a lot to learn.
/end rant